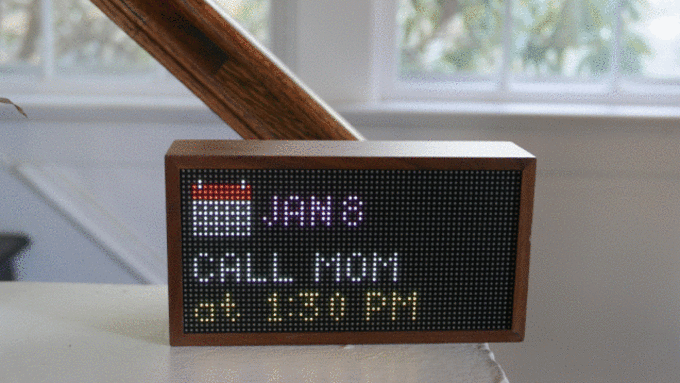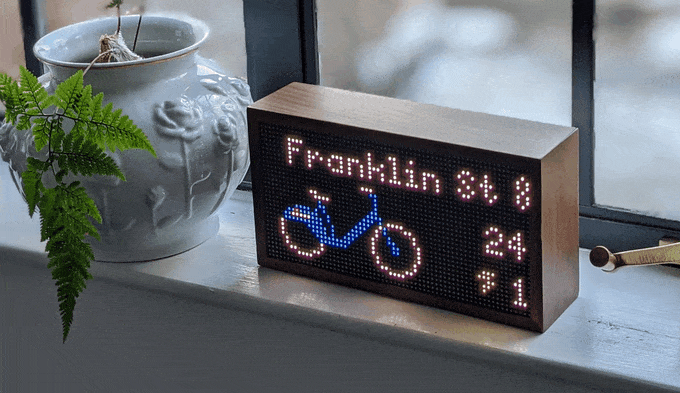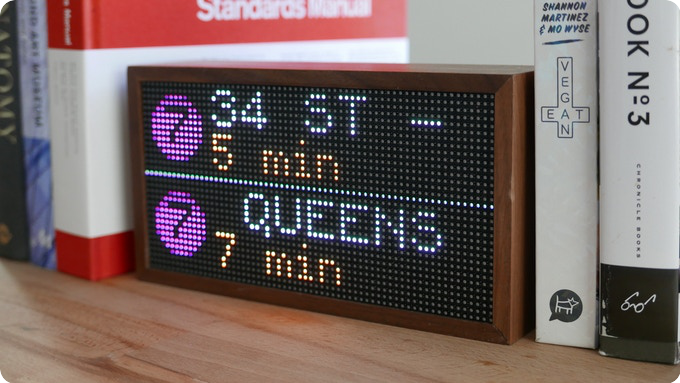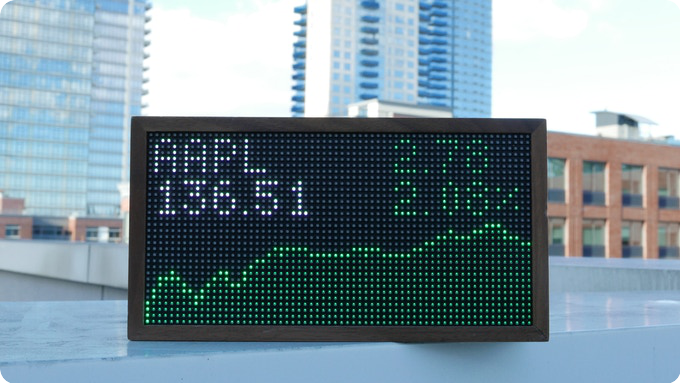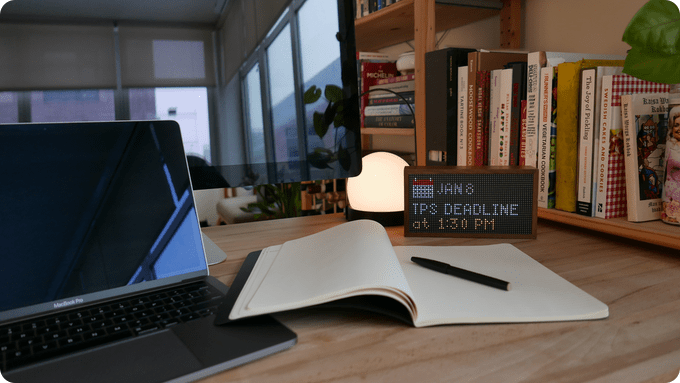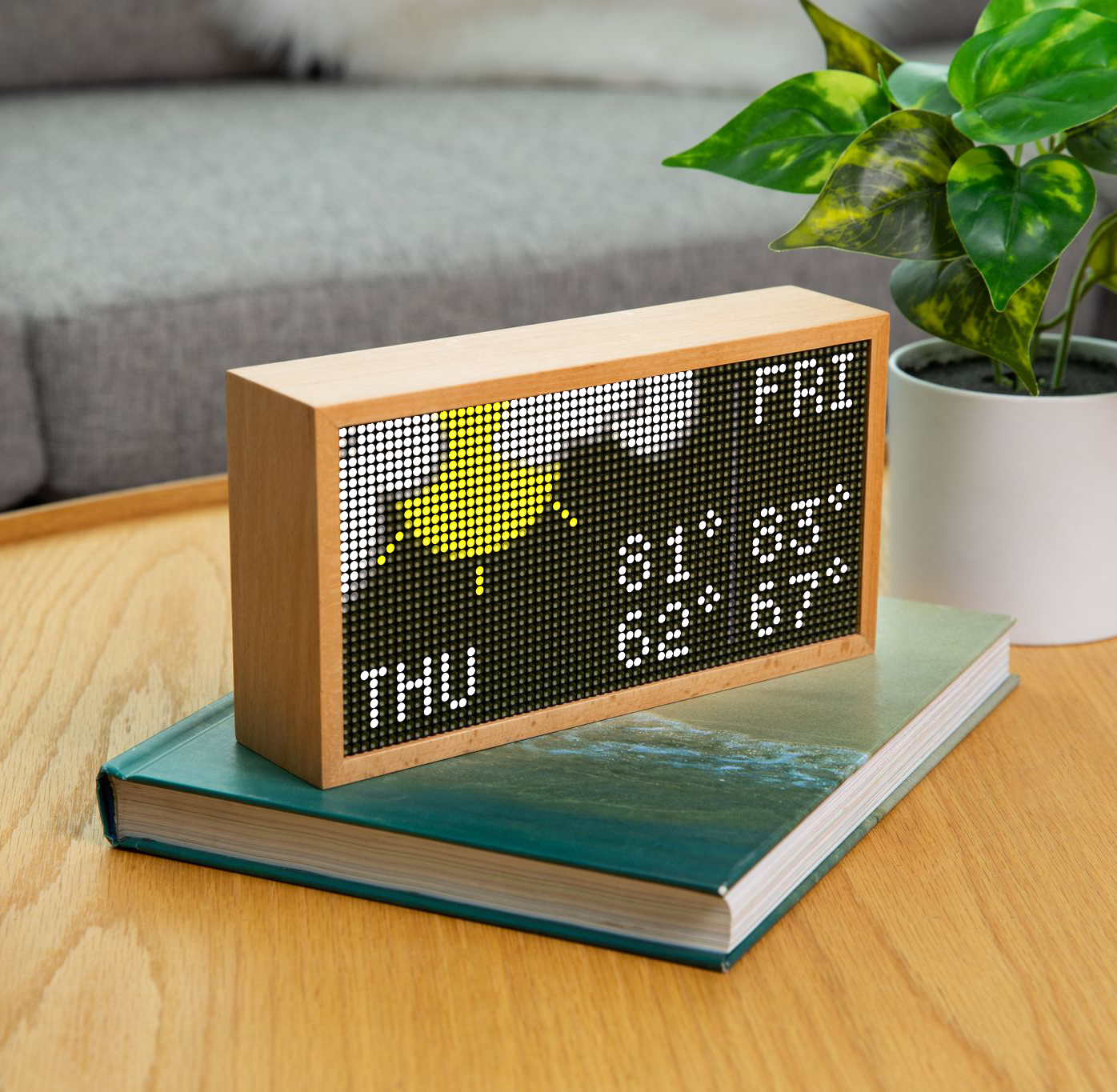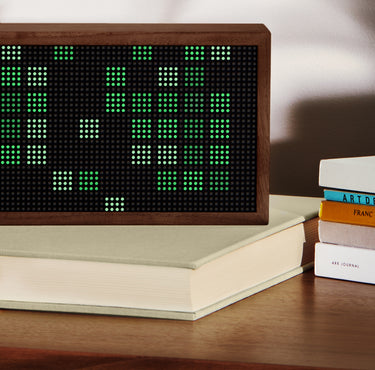 Quality Materials
Fall in love with Tidbyt's solid walnut enclosure every time you glance across the room.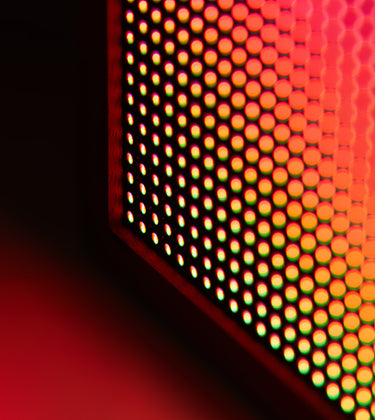 Fit Your Schedule
Use your phone to adjust Tidbyt's brightness, put it in night mode, or have it rise and set with the sun.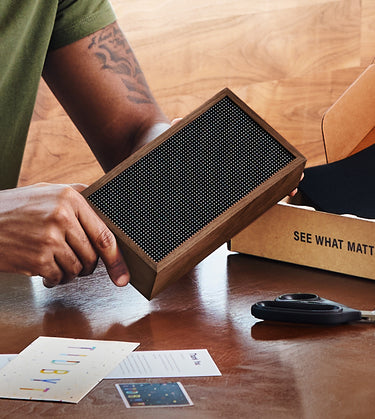 Easy Setup
Plug it in and pick from hundreds of apps. Choose what you want and Tidbyt cycles through it all.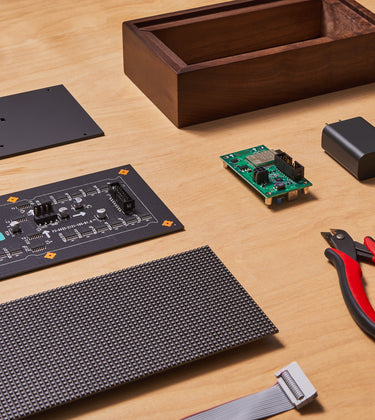 Open Ecosystem
Write your own apps, flash your own firmware, and even reuse the display for your next side project.
Now Playing
Never miss a song by showing whats playing from Spotify or Sonos.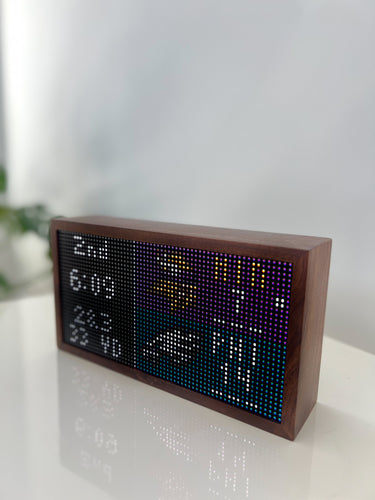 Football
Dinner with family during the game? No worries, see all your live scores and stats at a glance.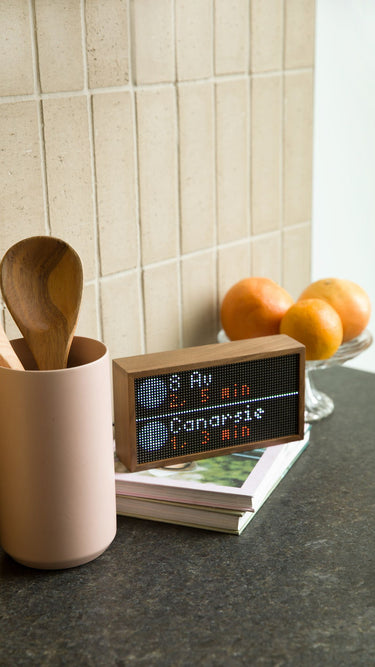 Transit Information
Keep track of when the next train is running, or not running before you head out the door!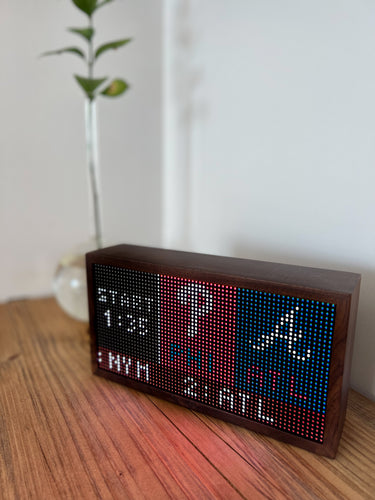 Baseball
Stay up to date with standings and live game scores for your favorite baseball team.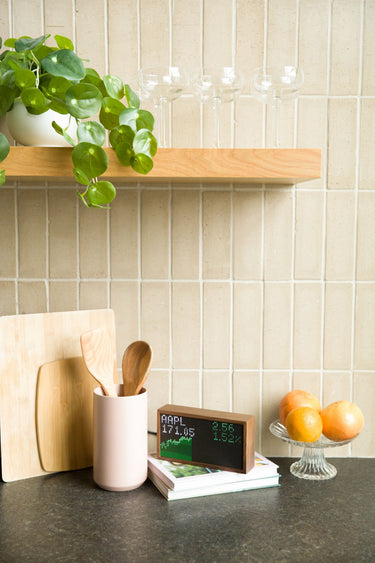 Stocks
Keep track of your favorite stocks and cryptos at a glance.
Customer Reviews
Write a Review
Ask a Question
Filter Reviews:
apps
Tidbyt
device
weather
display
information
gift
husband
addition
home
09/11/2022
Celeste M.

United States
My Tidbyt
Love my Tidbyt!! it has lots of apps to add to your Tidbyt. It's so cool, and so fun.
09/09/2022
Robert D.

United States
Best Thing Ever
This Thing Is Great For A Sports Nut Like Me. Love It.
09/09/2022
Jade O.

United States
Love it!
I enjoy having this even more than I thought I would. I have currently: 3 clocks, live day/night time zone map, Doppler radar, Spotify now playing, most recent MegaMillions numbers, live near Earth objects, and some photos. Love it!
09/08/2022
MARIO C.

United States
Love!!!
Keeps me from always searching for info on my cell phone!
09/07/2022
Bard L.

United States
Cool little gadget for my desk
Love my Tydbit, in fact love it so much I had to get a one for both my home and work office. It is so easy to set up and use. Love having the time, weather, my MLB and NFL scores and stock tickers at a glance during the day. I even got a third one that I am waiting to give someone as a gift. Such a cool little gadget.
08/31/2022
Chris J.

United States
Amazing
Far exceeded my expectations. So fun to tinker with and visually looks amazing. Definitely made all my friends jealous.
11/23/2023
Roberto d.

Spain
Cool and useful
The experience has been very positive. In my particular case, the Nightscout app allows real-time glucose monitoring. It has been a key element for its purchase. Absolutely essential if you are diabetic. Thank you for making it possible.
11/22/2023
Barbara G.

United States
Waiting on delivery
You guys need to get another choice for shipping. DHL returned first, still waiting on redelivery. Not good when it is a present. Customer service has guided me but never had such problems with delivery?
11/21/2023
Justin V.

United Kingdom
Lovely device
Almost everything is perfect but I've had some bad pixels. Device, app, experience is great though
11/20/2023
Michael G.

United States
Just what I wanted, needs extensibility
My Tidbyt was shipped quickly, arrived well-packaged, and setup is an absolute snap. The app is very intuitive as well. Out of the box, I had the thing customized and running some displays in under 20m. The unit is really well made. I got the dark walnut finish and it's really impeccable. I've thought about making something similar with a LCD for a long time, but this scratched that itch perfectly. At first, I was annoyed that it was hard to re-order the screens I'd added. But then I realized you can long-press in the app and move it, just like you can with an app on your phones screen. Excellent! My only remaining gripe is the customization. I would LOVE to push information to this thing from my local HomeAssistant instance, but there isn't a way to do that. Maybe you could do it by writing a full blown custom app, but the language is "python-like" and frankly (even as a professional developer) I just don't have the time to invest in learning a language for this trivial use. The build quality is on point, but I would like to see some extra extensibility!
11/13/2023
Nick S.

United States
Love the idea but still a few kinks
This was actually my 2nd Tidbyt because my first one would not connect after having it for over 3 months. My newer one also doesn't stay connected as it should be we shall see.
11/07/2023
Jillian W.

United States
Great gift
I got this for my sports loving boyfriend, and when he set it up there was more to this than I expected! Very happy with this purchase!
11/06/2023
Phil D.

United States
so close
the hardware quality is excellent. but I have two significant suggestions for the software development process: 1. offer a non-cascading drawing API. those exist to place things relative to each other with wildly dynamic viewport needs; the tidbyt is exactly 64x32. it's a rare joy to be able to work with such a known environment, and you're forcing all the same cruft required for a dynamic web page. some examples: `setPixel(x,y,color)`, `fillRect(x,y,w,h,color)`, `drawText(x,y,text)`, `drawSprite(x,y,sprite)`. these would have made authoring my app (tidclock) SO MUCH easier and more pleasant. if you look at the source, it's a mess of workarounds trying to set exactly the pixel I know I care about. 2. on device rendering. I know this one is a significant ask: it would require you to develop a simple bytecode, and have limited size compiled apps. I'm not suggesting to fully replace your "server rendered" infrastructure, but instead asking you offer the ability to publish apps of two categories: server rendered (as exists), or app rendered (different pipeline). the app rendered pipeline could supply a desired fps, and then fill out a "loop" function where it draws whatever it wants. even with very tiny max app size limitations, some cool stuff could be accomplished. it's very frustrating that I have so much great information on my tidclock, but I can't put a continuously animating "seconds" bar in there.
11/06/2023
Thomas W.

United States
Nice display but it gets stuck in reset loops
It found my network quickly and seemed fine, but then it seemed to be stuck showing the tidbyt startup animation. It usually got past Connecting... (my phone was able to see the Internet from the same wifi it was slow to connect through)
11/04/2023
Ryan S.

United States
Overpriced with minimal control and customization
Frustrating it seams like people on third party web sites have been complaining about the lack of control for over a year with no change. I think $180 is a rediculous price for it. We planned to buy two but after using one for a week we are sending it back.
11/02/2023
Jahmai R.

United States
Love it
This thing is awesome! I like how it looks and the helpful apps. Worth it.
Customer Reviews
Write a Review
Ask a Question
Filter Reviews:
something
apartment
friends
weather
options
developer tools
alerts
variety
Stocks
messages
11/22/2023
Robert H.

United States
Great purchess
It was great easy to set up I'm loving every moment of it can't stop watching ot
11/22/2023
Carlos P.

United States
Best Invention Since Sliced Bread
Amazing - great addition to my apartment , already buying my friends for Christmas!!!
11/15/2023
Evan M.

United States
I love this lil thing!
I love the variety of apps that are readily available to install and use. Can't wait to tinker with the developer tools and make something on my own. What a gorgeous product!
11/10/2023
Gilbert L.

United States
Tidbyt is great but package was incomplete.
Device worked great, but box did not include power cord. Support was quick to get this resolved.
11/06/2023
Nick V.

United States
Stylish new wall decor
It's fun, I enjoy the different options. Stocks, weather, alerts, and personal messages as well.
Night Mode. Calendar turned off. Lights dimmed until morning.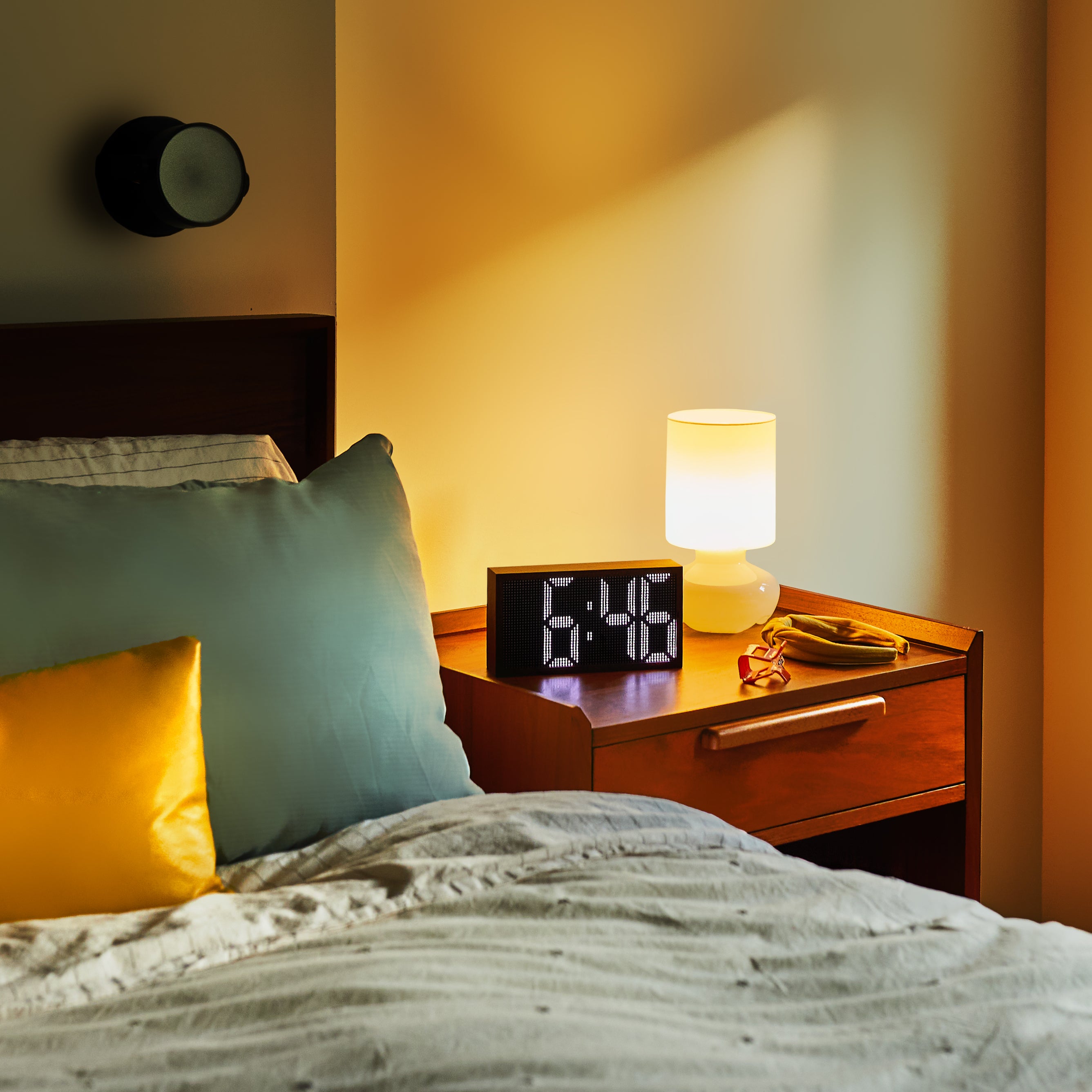 No speakers, AI or mics, just information you want to see.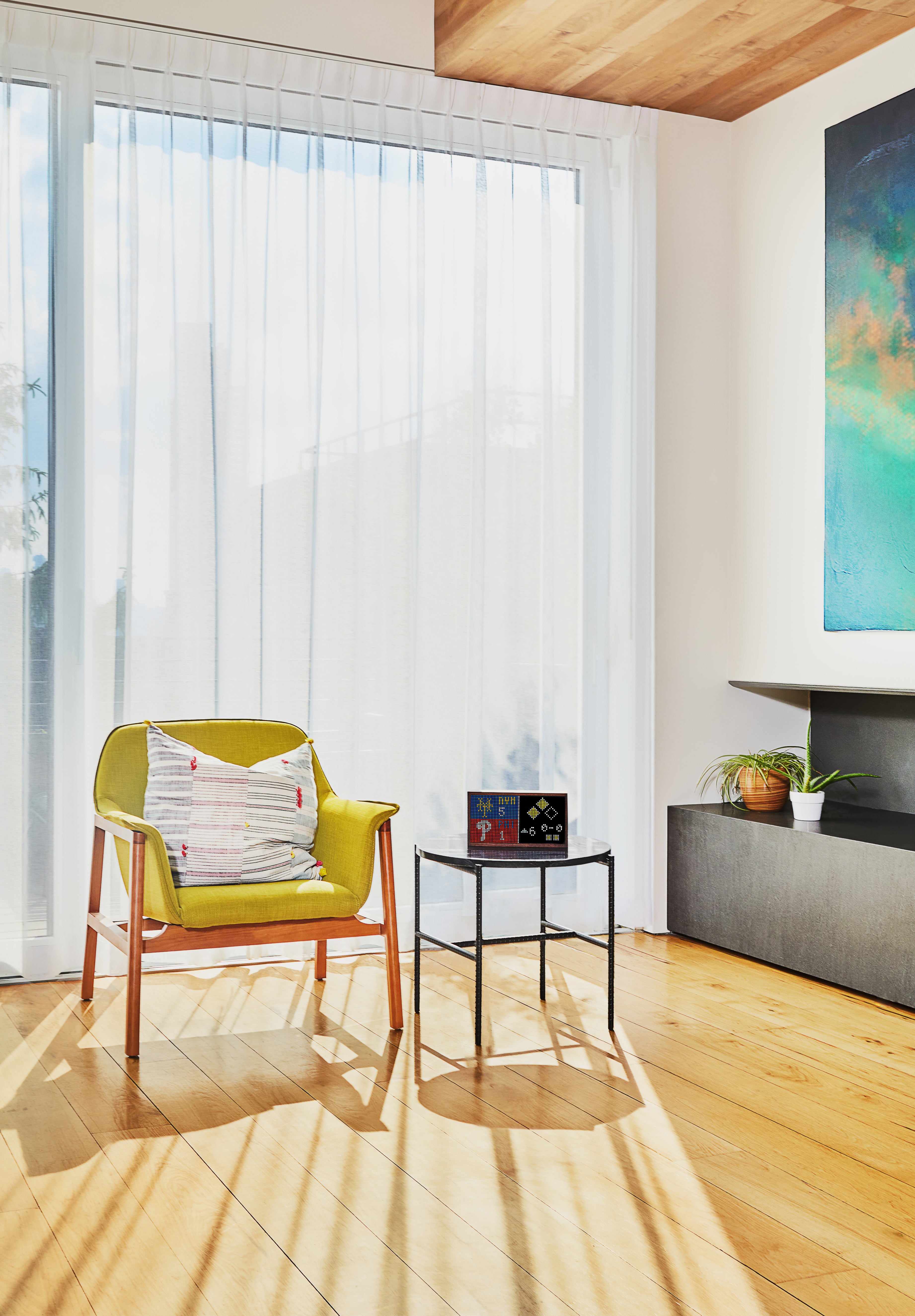 Pre-schedule apps to appear when you want to see them.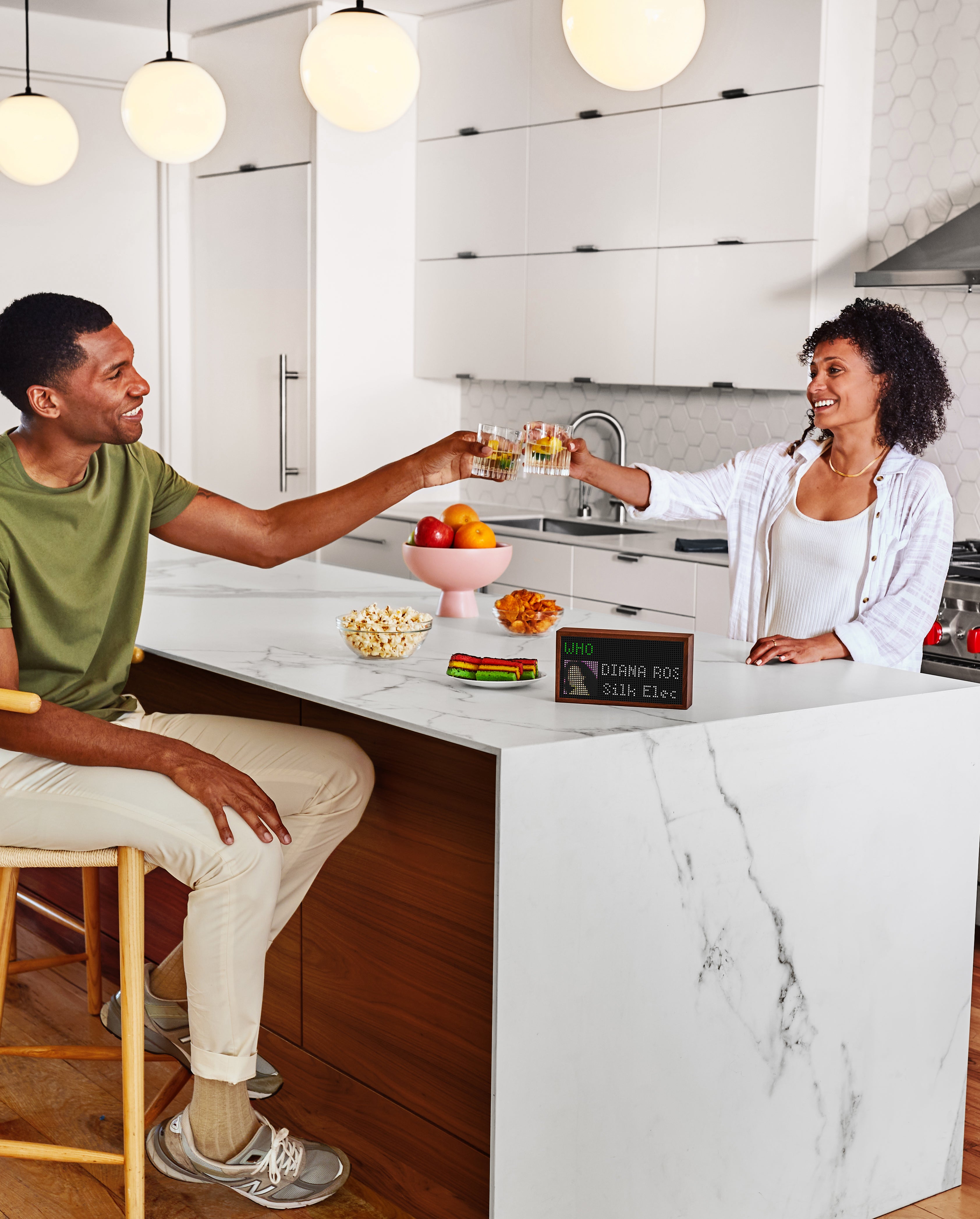 Perfect for home, work or play.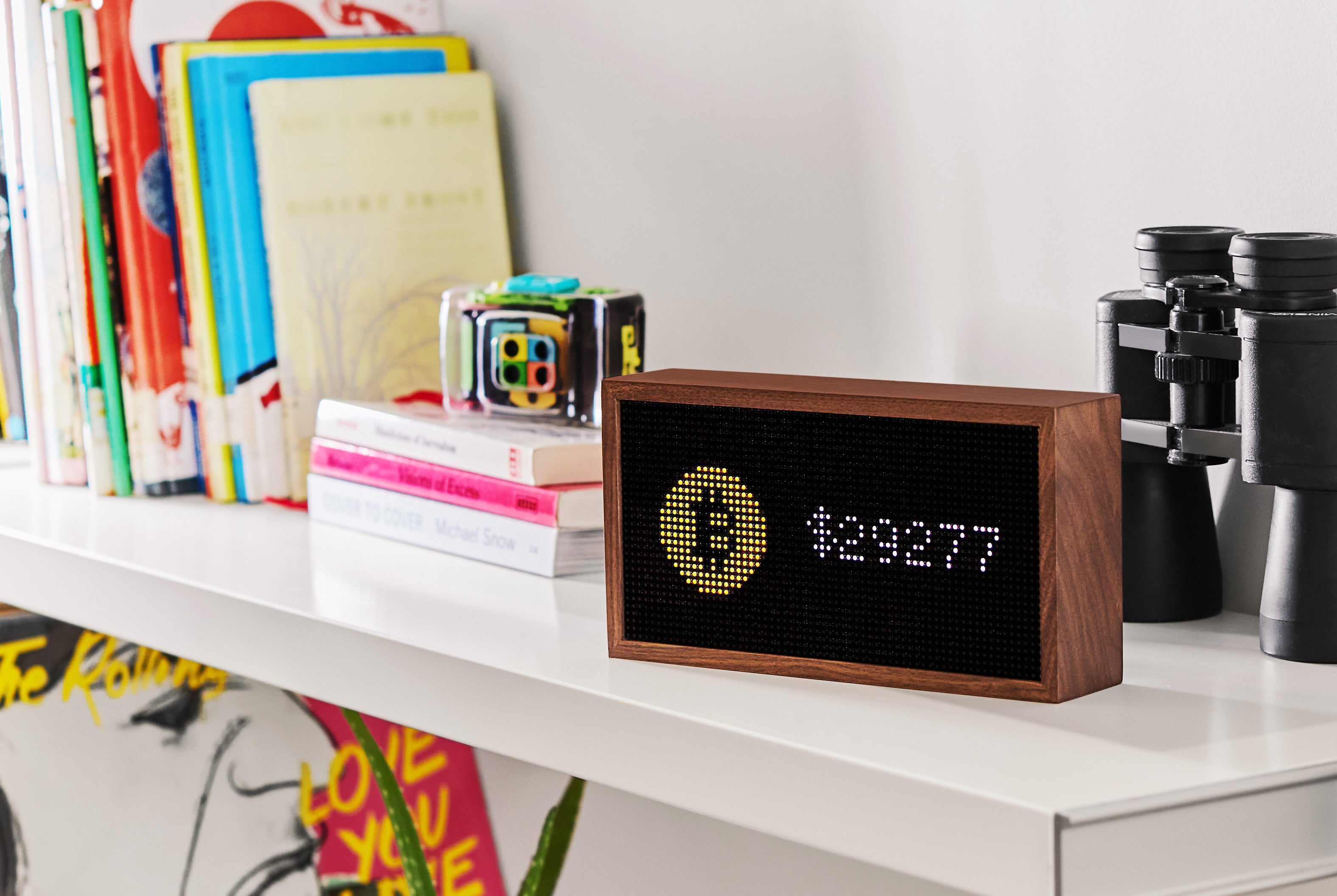 Set your cycle cadence for 5, 10 or 15 seconds.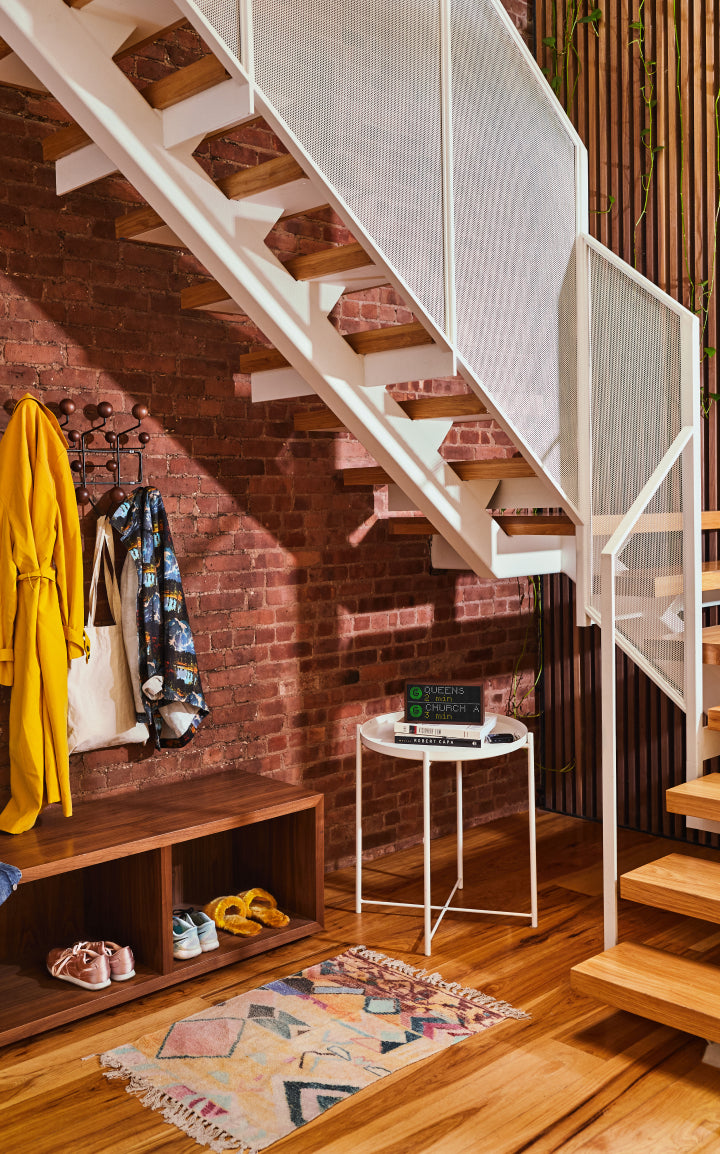 Build your own Tidbyt apps with just a bit of code.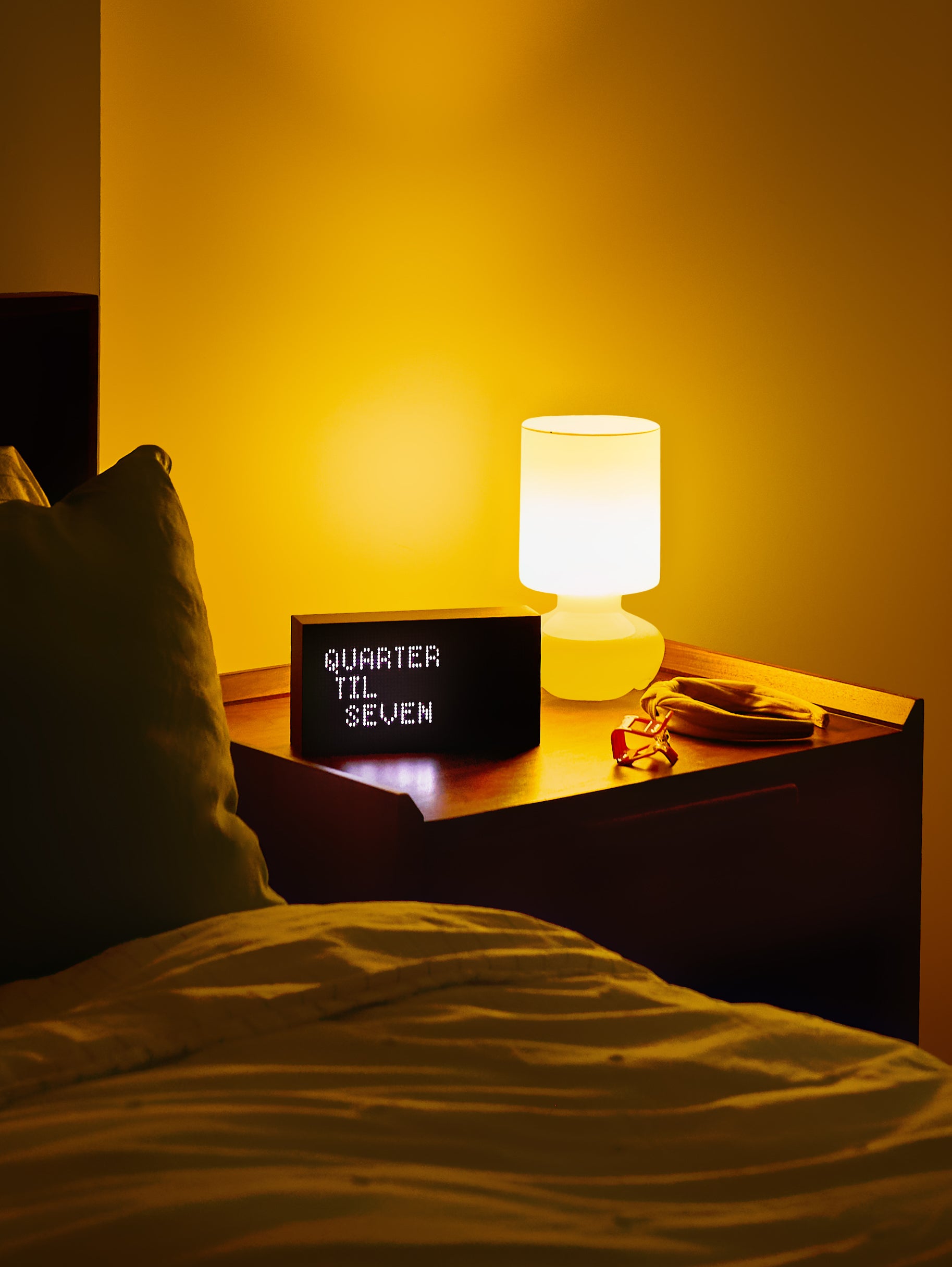 Adjust brightness as the sun rises and sets with auto-dim.